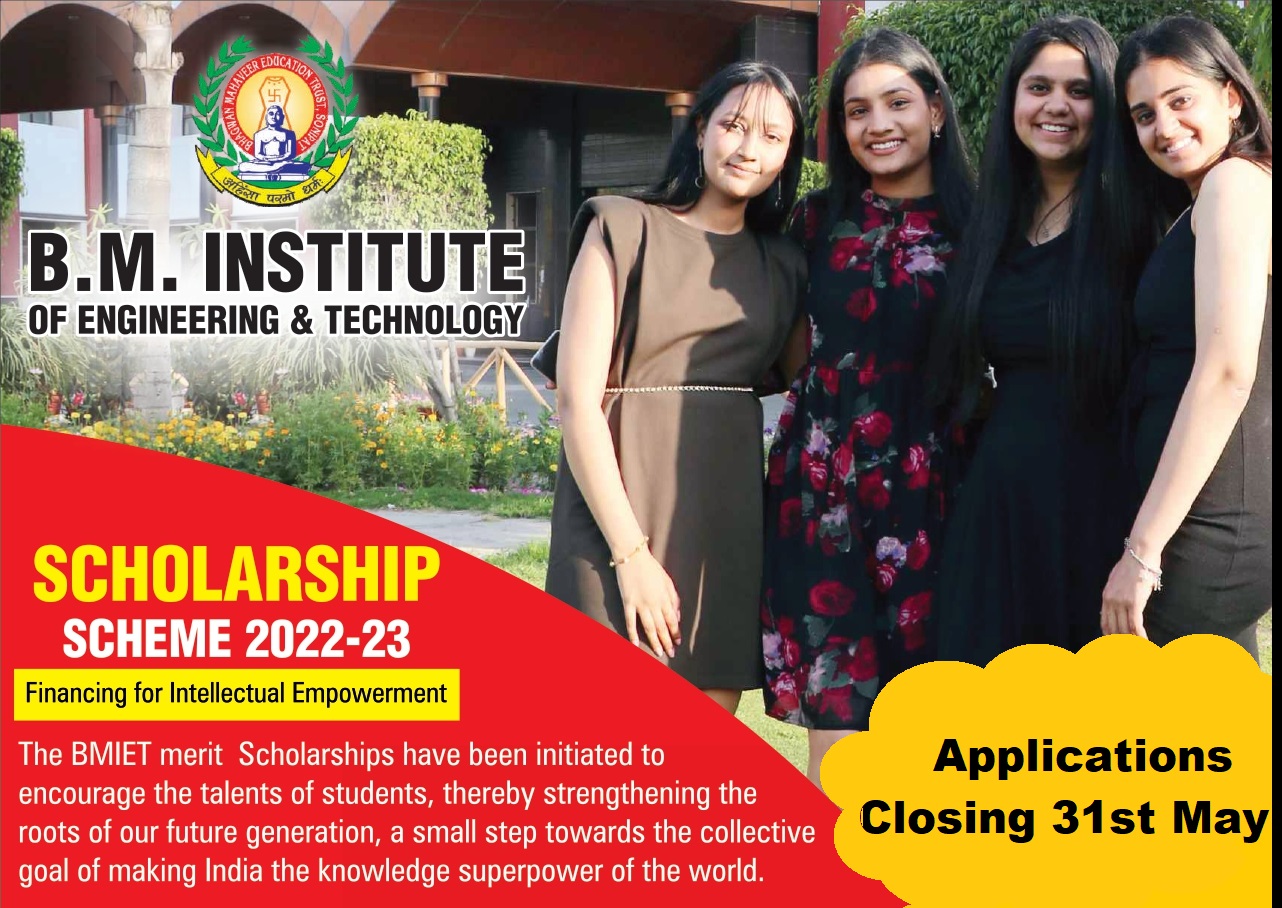 Scholarship Details: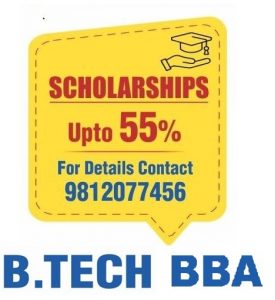 Scholarships forms shall be available at institute counter w.e.f 12th May , 2022 and

Last date to apply: 31st May, 2022.

Grant of Scholarship is subject to approval of the Scholarship Committee.

Students seeking scholarship based on JEE Mains score may note that we have Limited seats under this category and the same will be allotted on first cum first serve basis.

Students whose results are awaited may register and give scholarship test (BMSET). Scholarship percentage shall be decided once board result is declared

On-admission scholarships are applicable in 1st year only. 2nd year onwards continuation scholarship rules apply

Aggregate percentage in qualifying course (10+2) will be calculated on the basis of marks scored in English & three academic subjects (based on course opted)

For B.Tech. (Lateral Entry) Aggregate % in Diploma shall be considered in liu of XII
Priority Admission Guidance
All students who are eligible for the scholarships (after 10+2) are given priority admission guidance as per GGSIP University admission procedure. That means they do not have to bother about the admission selection process and their admission process (the common admission test, admission counseling , reporting etc) is guided by the institute scholarship team.
Note: Final decision of granting scholarship is with the scholarship committee. Candidates are required to fulfill and follow minimum eligibility criteria and admission procedure laid down by the University.
Scholarship Seats
Limited Scholarship seats are available on a first come first serve basis, which will be offered after joining the program on verification of original documents.
National Scholarship Schemes for Students
MERIT CUM MEANS LINKED FINANCIAL ASSISTANCE SCHEME (GRANT FOR TUTION FEE)
— Financial Assistance Upto 50% of Tuition Fee
ECONOMICALLY WEAKER SECTION (EWS) SCHEME
— Financial Assistance Upto Rs 50000/- per Academic Session
AICTE Pragati and Saksham Scholarship
— Amount of scholarship: Rs. 30,000/- of Tuition Fee and Rs.2000/- per month for 10 months as incidentals charges each year.
Important Links

— National Scholarship Portal : https://scholarships.gov.in
— AICTE Pragati and Saksham Portal: https://www.aicte-pragati-saksham-gov.in
— IPU: http://www.ipu.ac.in/