B. M. Institute of Engineering and Technology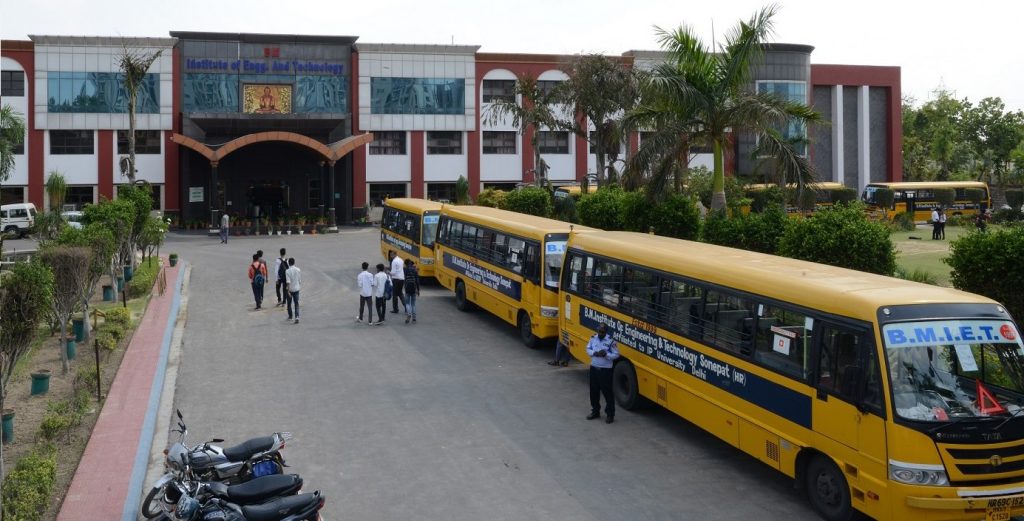 BMIET is one of the the best engineering colleges in Haryana and Delhi NCR and was established in 1999 by Bhagwan Mahaveer Education Trust with the objective of creating a center of excellence in the field of technical education at Sonepat and provide conductive environment for studies based on the teachings of Lord Mahaveer. The institute is committed to :-
Non-violence- not to cause harm to any living beings.
Truthfulness- to speak the harmless truth only.
Non Stealing- not to take anything not properly given.
It is approved by AICTE to conduct Engineering and Management Courses. The Institute has started B.Tech in Emerging area of Artificial Intelligence and Machine Learning w.e.f. academic session 2021-22. The institute is Affiliated to IP University (GGSIPU), Delhi w.e.f. session 2016.
To give right direction and impetus to the institute, the management invited an eminent engineer and educationist Dr. R. P. Jain to be the founder Director of the Institute. It was conscience decision of the management to induct persons with experience, both in the field of education and industry to give right orientation to the teaching based on the requirements of the industry while adhering to the prescribed university syllabus. The senior faculty is assisted by fully qualified teachers with good academic record.Since its inception, the institute has established excellent facilities required by such an institute. It has a sprawling 11.15 acre campus in the outskirts of Sonepat town, in the scenic rural setting and is well connected to rail and national highway no.1, with boys and girls hostels, and staff residences, and esthetically created landscape, playgrounds, and services.
The institute has state of the art laboratories, computer centers, library with excellent collection of books, international and national journals, and reading room, canteen and bank counter. The hostels are fully furnished with proper messing facilities and security and have resident wardens. Pure vegetarian food is provided to all the residents. For all round development of the students and to give them opportunity of self expression, the institute organizes sports meets and cultural programmes in the campus and encourages students to take part in the events at inter-institute level. The institute take pride in creating atmosphere conducive to students taking their studies seriously which is reflected in low absenteeism and high grades in university examinations. To broaden their horizons in the professional field, institute organizes guest lectures and visits to industries and trade fair, etc. The institute has a training and placement cell to facilitate and counsel the students to find training and placements slots and avenues for further education.
The student's discipline is maintained through student welfare and guidance and not through regimentation.
The institute has installed standard norms and procedures for consistent and sustained high quality in academics and administration.