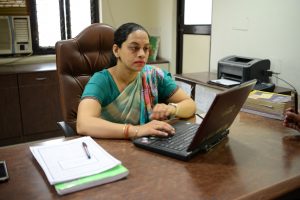 BMIET has also dedicated itself to the excellence in management education. The department of Management Studies is committed to developing programs designed to equip wannabe managers with new age competence, clairvoyant vision and high level of integrity. In a global, culturally diverse and technologically advanced social arena, characterized by rapid change and complex interdependencies, we aim to empower business and their leaders by focusing on Innovation, Continuous Improvement and a service Orientation. BMIET started its MBA program in 2008 and BBA program in 2011.
 The Department rests on six pillars:
Student Centeredness
Excellence in Teaching
Scholarly and Application-oriented Research
Contemporary and meaningful executive education and development
Global focus and cross-cultural sensitivity
Outreach activities that serve society and enhance the quality of life
Learning Opportunities in Department of Management
The Mission is to lay down high benchmarks in the Management course by the way of imparting multidisciplinary educational approach and innovative skills to the students in following ways:
Discussion on Case Studies
Live Projects and Presentations.
Industry Interface
Workshops/Seminars
Expert Lecture by Corporate Delegates/ Resource Person in Campus
Business & Management Games.
Career Paths for Management Students
Management Course gives a good career start and leads to a wide scope for career development and skills.
Management course gives scope for innovative outlook.
Management graduates will have the capability to network with the best in the market.
Students prefer Management course to acquire the skills necessary to start a business/ start-up/ turn into an entrepreneur.
Management degree offers a brand value to you.
Management degree not only enhances professional growth but also personal growth.
Management graduates have enough chances to work outside their native places so that they can gain enough exposure and understand the market conditions in different regions.
GGSIPU MBA Eligibility Criteria
Any recognized 3 years or more Bachelor's Degree in any discipline with a minimum of 50% marks in aggregate. OR Bachelor's Degree in Engineering, Technology or any other subject with minimum of 50% marks in aggregate or any qualification recognized as equivalent thereto with minimum of 50% marks in aggregate.
All admissions shall be made on the basis of the merit of National Level Admission Tests (CAT/ CMAT) on the basis of normalization of their scores. IP University will also conduct its own CET for admissions, but shall be utilizing the merit of CET only if the seats are left vacant after finishing CAT followed by CMAT merit list.
GGSIPU BBA Eligibility Criteria
Candidates must have passed 10+2 from CBSE or equivalent with a minimum of 50% marks in aggregate and English (core or elective or functional) as a subject
GGSIPU allows both Indian as well as Foreign candidates to fill the GGSIPU CET BBA 2021 application form.
Kanika Budhiraja
HOD, Department of Management