2022 Fifth International Conference on Computational Intelligence and Communication Technologies (CCICT'2022)  8-9 July, 2022, Sonepat (NCR), India
Conference Program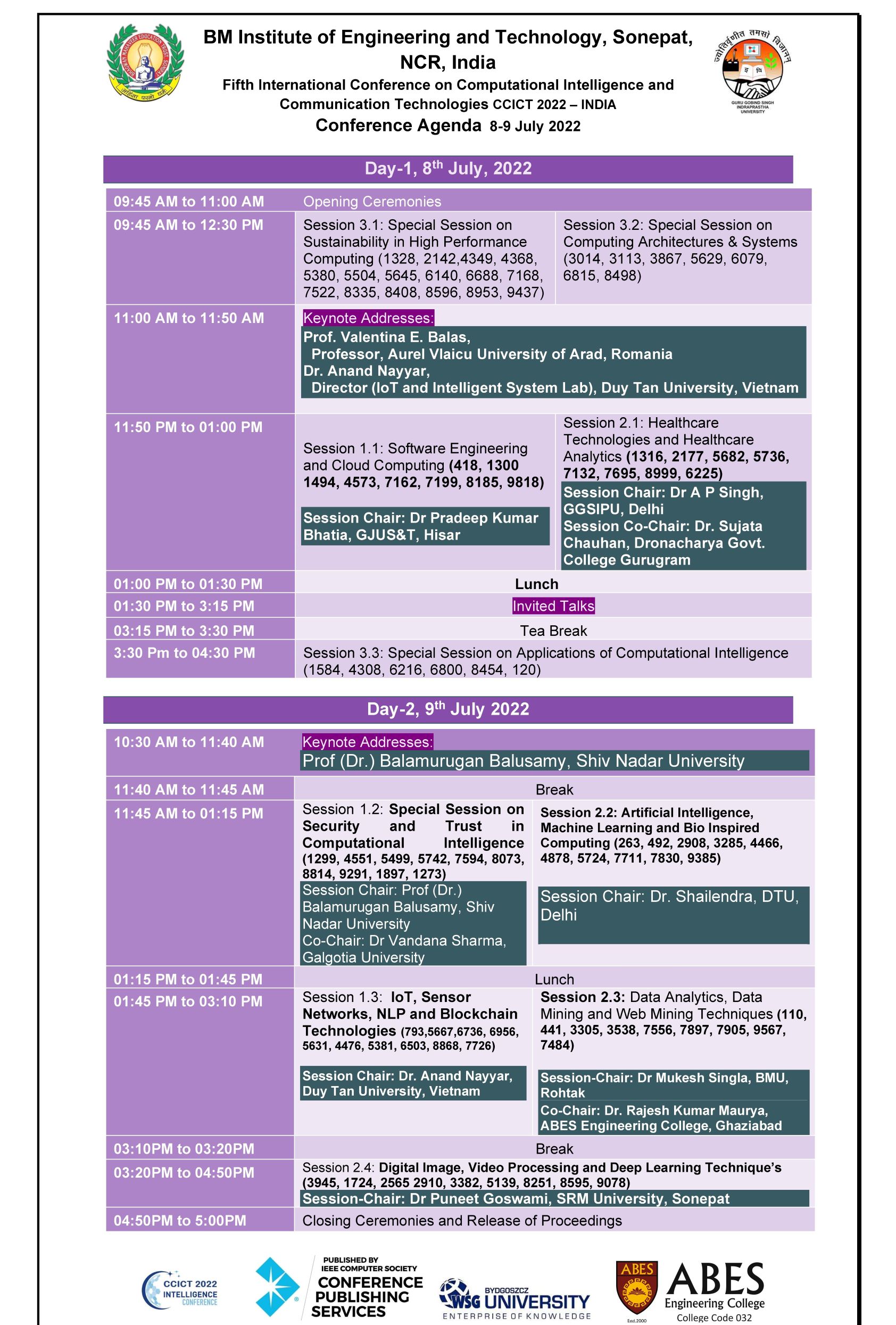 It provides a platform for students and professionals from all around the world to share their findings in the fields of Computing and Communication Technologies. This year a special emphasis is to be placed on AI, ML, IoT, Industry 4.0 and robotics.
IMPORTANT DATES
————————
-Paper Submission Deadline: 14th May 2022
-Notification of Acceptance:  28th May, 2022
-Registration and Final Paper Submission Deadline: 
Check Schedule
-Conference Date: 8-9 July, 2022
KEYNOTES BY RENOWNED SPEAKERS
o Prof. Valentina Emilia Balas, from AV University OF ARAD, Romania, Director, Department of International Relations,
Head of the Intelligent Systems Research Centre
o Dr. Eng. Zdzislaw Polkowski, Conference Chair, Visiting Professor and Rector's Representative for Intl. Cooperation, WSG University, Bydgoszcz, Poland
o Dr. Anand Nayyar, Director (IoT and Intelligent System Lab), Researcher and Scientist, Graduate School, Duy Tan University, Da Nang, Vietnam
o Prof (Dr.) Balamurugan Balusamy, Associate Dean – Students, Shiv Nadar University, India
MAIN TOPICS
————————
Authors are invited to submit full papers describing original research. Areas of interest include, but are not limited to the following conference tracks:
 -Artificial Intelligence, Deep Learning and Machine Learning
-Natural Language Processing
-Soft Computing
-Virtual Reality, Cloud & Big Data Technologies
-Embedded and Ubiquitous Computing, Sensors and Bio-inspired computing
-E-Learning, E-Commerce, E-Governance and Security in E-Governance
-Internet of Things (IOT) and Industrial IoT (Industry 4.0)
-Smart manufacturing, Robotics
-Next-generation Networks, Embedded Internet devices
and related topics.
VENUE
——————
BMIET Campus, Sonepat, INDIA (in Blended Mode)
PUBLICATION
————————
All papers presented in the conference will be submitted for inclusion into the Xplore and CSDL Digital Library (and sent for Scopus and WoS Indexing).
PAPER SUBMISSION
————————
Authors are invited to submit unpublished and original work that is not under consideration for publication elsewhere.
All submitted papers are subject to peer review.
1. Go to the paper submission website: https://easychair.org/conferences/?conf=ccict2022
2. Call for Paper: https://cict22.bmiet.net/call-for-papers/
CONFERENCE FEES
————————
https://cict22.bmiet.net/registration/
CONTACT INFORMATION
————————
Email: harish_mittal@ieee.org
Website: http://cict22.bmiet.net/
We invite you to attend CCICT'2022 and suggest to your friends/ colleagues/students for a research presentation. Feel free to contact us for further queries.